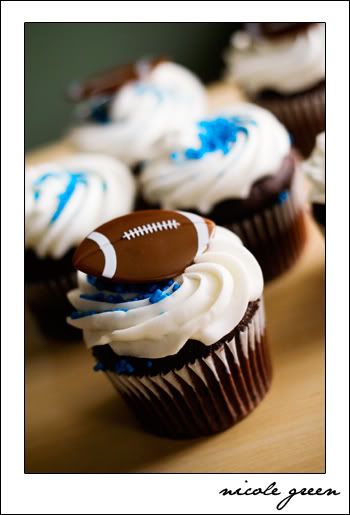 I am sooo psyched the Colts won the Super Bowl! We spent our night with our great friends, Adam & Jalaina. It was so much fun! Especially since I showed up with football cupcakes! Yum! --->).

The city has been nuts since they won! Tonight they had a parade with the Colts players (freezing their butts off, I'm sure!). The players went around the downtown streets on floats and drove straight into the RCA Dome. There were almost 50,000 Colts fans in the Dome going crazy. I would have killed to be there but unfortunately Dan and I couldn't go . Last night after the game his car wouldn't start and we spent the night installing a new battery. The insane freezing weather had killed it.

We got a glimps of them on their way home though! Dan and I live right next to the complex where the Colts practice. It's been so funny hearing every car go buy honk over and over when they drive by. Though, it is kind of getting annoying. :) After the big rally downtown, we got to see all the players drive by our home and pull up in each bus (8 total!) at the complex. They had the lights on in the bus so we got a glimpse of a few of the players. It was so fun .. and I am such a geek! :)

Congrats to my neighbors! ;) Go Colts!

Well, tomorrow is my 24th birthday! They are predicting a huge snow storm to hit Indy that could possibly ruin my birthday plans! :( I might miss out on P.F. Chang's for dinner! That will be tragic!