Today me, Dan and one of my best friends, Alicia, joined the team (of some long time family friends of mine Collette, Dave, & Natasha), the MS Angels, for the 2007 Multiple Sclerosis walk. We walked in honor of my dad who was diagnosed with MS 15 years ago.

It's the middle of April and we had to deal with temps in the 30's! On top of that was random spurts of sleet, snow, and rain!! It was definitely not the ideal weather, (especially for walking/running outside!) but it was all worth it. I hope next year it's a lot nicer so my dad can walk with all of us!

Thank you to those who sponsored me and the rest of the MS Angels! I appreciate it and I'm sure all of those who have been diagnosed, as well as their families, appreciate too!

Here are a few pictures of the fun!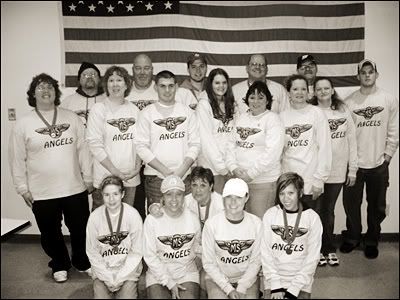 Our team, the MS Angels :)


|
American/Asian conflict!



my Dan :)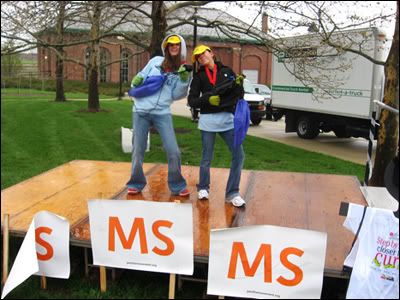 Alicia & I breaking out in some air guitar on the stage.



Alicia at the finish line. Yay!



Dan at the finish line. Geek!



Me at the finish line. Weirdo!
After the walk Dan, Alicia, & I enjoyed a wonderful lunch at our favorite restaurant, McAlister's. Back when I met Dan, the first time I actually called him was when Alicia and I were eating at McAlister's (like that is a shocker for us! All we ever do is eat .. and it's normally there). So we sat in the same booth where Alicia & I sat years ago, ate way too much food and took tons of random pictures.



Nachos bigger than Alicia.



Dan and I.



Alicia and her boyfriend, (imaginary). haha! How cute are they? <3